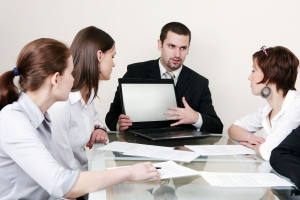 Succession Planning:
If you own a family business, retirement is much more than a decision to stop working. Questions like, "What happens to my business when I'm no longer running it?" and "Will I have enough money to retire?" can easily make matters difficult.
Succession Planning should be a priority for any family business. More than seven out of ten family-owned businesses fail to survive the transition from founder to second generation, typically falling prey to estate taxes or family discord.
We help you sort through these key issues:
Keeping it in the family. Are you going to pass the business on to your family or sell it to a third party? We help you weigh the advantages and disadvantages of each of these options.
Who's going to run the business when you're gone? You may decide to transfer management of your business to just one of your children but transfer equal shares of business ownership to all of your children.
Minimizing the tax bite. Transitioning a family business can incur a serious tax burden. Because family businesses are not generally considered to be a liquid asset, taxes are typically due upon transfer of ownership.
Making it fair. Transferring family ownership can be very stressful for individual family members. We speak with each member of the family to ensure that they feel they are getting a fair and equitable share.
Once we understand how you feel about the key issues above, we construct a Succession Plan for you based on business valuation, business restructuring, tax consequences, retirement projections and tax projections.
Strategic Financial Business Planning:
Strategic business planning is more than a document or a tool to obtain financing, it is a process that guides your competitive edge short and long term. The ongoing strategic financial management of your company's operations, cash flows, credit facilities, risk management, working capital and regulatory environment is critical to maintaining a short-term advantage in today's fast-paced environment. Our firm is pro-actively engaged with our clients on a year-round basis to advance our client's established goals and objectives.
The importance of mid and long-term planning plays a more strategic role in assessing your company's resources and the effective deployment of those assets to generate the highest returns while appropriately assessing business risks and the competitive landscape. The process of matching short-term performance with long-term objectives such as growth, capital needs and facilities, management team development and execution and ultimately succession for the benefit of you and your family is the most effective manner in which a company can derive the most value from is advisors.
Our firm encourages the strategic financial business planning process and embraces the trust and responsibility that comes with such a meaningful long-term relationship. Our firm's experience and expertise provides the skills required to help your company navigate its future, however our responsiveness and ability to effectively communicate is what truly differentiates us.